*Affiliate links may be included in some posts, see my Disclosure tab above. *
Emma was a 4th grader during the 2012-2013 school year. She had a wonderful year as her love of learning, and especially reading really blossomed. We used some books we already owned, and then during the second semester we used several provided by the TOS Review Crew. Emma finished all of her work right around the
1st of May (started on Labor Day)
and a bit before on some subjects. This summer she has been doing a few review products, along with Tyler, for the Crew. She has REALLY been enjoying the local library reading program, having just completed their 100 book reward. :)
Click any image to view it on Amazon!
Grammar
Like Tyler, Emma used
Spectrum Language Arts Gr. 4
. I really like how it covers the basics in an organized fashion, and the lessons are numbered out so that it is easy to finish within a school year. This is a very traditional approach to grammar and it really worked for Emma. I will likely stick with this one.
From the description: "The four-part lessons encourage creativity and strengthen writers by focusing on combining sentences, punctuation, and similes and metaphors. The book features easy-to-understand directions and includes an answer key, a writer's handbook, and helpful writing tips. "

Spelling
Emma used the A'Beka Spelling, Vocab., Poetry book for 4th grade. It has an easy break down of daily work, so it's easy to assign. A'Beka is tried and true, but it just wasn't a perfect fit for her, so we will likely be looking for something new this fall. Very likely a Spectrum book, although I'm still shopping. Suggestions welcome!
Math
I had originally planned to have Emma use Saxon 54, like Tyler did in 4th grade. Last year (in 3rd) Emma had used
Modern Curriculum Press Mathematics, Level D (Grade 4)
, and the style really clicked for her. The MCP Level D book came in two thick volumes, and when I compared the second volume to the coursework in Saxon 54, I decided to use the second volume of the MCP instead. By the end of the book, Emma was doing the same level math as Saxon 54, so this fall she will start right in with Saxon 65.
Science
For the first part of the year Tyler and Emma shared
A'Beka Books Investigating God's World.
I've always like the A'Beka Sciences. The chapters are easily read and there are regular question boxes to answer together. The illustrations are colorful and interesting as well. Early in the Crew year we were offered
Apologia's Zoology 2
to review and I jumped at the chance. We received it in January and really enjoyed it. Here's my summary
of that review
:
It knocks it out of the ballpark when it comes to retaining the information, especially if you invest in using the notebooking journal.
It was fun and easy to do the experiments with everyday household supplies.
My kids were excited to do it every day.
It covers the subject material completely and deeply.
The lesson schedule in the front of the notebooking journal, the planning was done for me.
With all that depth, I did not feel it explored the broad range of the sciences in a very clear way, or in a way that identified the different scientific arenas. This is important to me for the upper grades as they prepare for high school.
Geography:
Emma used the Spectrum Geography book 4, and really loved it. It was well done with lots of time spent looking at economics as part of the social geography. It didn't look as much at topography, but then, we had done plenty of that before. She spent a good deal of time analyzing how different regions used their natural resources, and how their proximity to other major cities plays a part in the economics. For example she now knows what the BosWash Megalopolis is. You have my permission to google that. ;) As you can see below, you can't beat that price.


We had the pleasure of reviewing
Memoria Press' Geography I
late in the year. We finished up the Middle East and will cover the rest of the book this fall.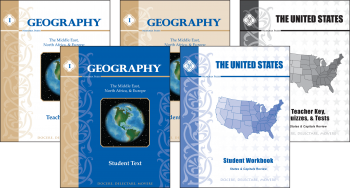 Geography I: Middle East, North Africa, and Europe Student Text (103 pages)
, is a
student text
for daily reading. It begins with a page of teaching guidelines, which recommend covering 2-3 countries per week. This book goes well with the
Geography I: Middle East, North Africa, and Europe Student Workbook (90 pages)
. As they read the one page in the
text
on each country, they can test their knowledge by filling in the blanks in the
workbook
. If you have more than one student, you can share the
text
and purchase extras of the consumable
workbook.
I think they are very reasonably priced for this!
History:
This year both Emma and Tyler shared
A'Beka Old World History and Geography
. It was a great overview of world history, and while the book we has was a bit dated, it covered the different regions thoroughly and had plenty of review by way of question boxes. It has plenty of maps and even encouraged the kids to memorize many historical works.
You can hear them reciting our National Creed here
.
We supplemented it with the History curriculum we were reviewing with the Crew, including
Homeschool in the Woods: Great Empires
, a unit study. There are 14 empires covered by the Activity Study, and we chose to work on these seven for the review period:
Russian Empire
Chinese Empire
English Empire
Egyptian Empire
Viking Empire
Roman Empire
and the Greek Empire
For each empire we studied, we had a map with important cities and boundaries marked, a blank map to fill in, a project sheet giving instructions and links, several craft template masters, and a recipe sheet with two recipes unique to that region. We also had a text portion to read aloud while working on the projects.
Art:
For the first part of the year, we focused on reading through the Usborne Children's Book of Art, in preparation for our trip to the
Denver Art Museum's "Becoming Van Gogh" Exhibit.
As a world exclusive exhibit, it was an awesome thing to have an opportunity to see. Given the long lines and the crowds we encountered, I'm amazed we got in at all. I'm so thankful for my friend arranging it! Emma was enthralled with the classical period art there, as well as the modern art.
The second semester we used the book from the Crew, ARTistic Pursuits. Elementary 4-5th grade, Book One: The Elements of Art and Composition by Brenda Ellis. We went though the first four units: Space, Line, Texture, and Value. With each one the kids enjoyed reading the lesson together with me, and working on the specific assignments. This week we took our various sketches and visited my grandma, and the kids told her all about what they had been studying. She, being an avid painter, looked over their work with a careful eye. then she turned to me and asked if I'm going to keep using this curriculum after the review. "I hope you do," she said. I was so excited that she liked what we had done so far. We do plan to keep going with it this fall.
We followed up our Art-ful year with a trip to the Nelson-Atkins Museum of Art in Kansas City. We spent the whole day there, and Emma was in heaven. I can really see how art is a special subject for her. We are currently reviewing a new book, Global Art, for the crew (review out soon!), and she has been enjoying doing a number of projects with it.
Bible:
Emma has taken a lot more initiative this year in reading her Bible alone. I'm super proud of the young woman of God she is becoming. She has taken a special interest in issues of modesty, and I'm really thankful for that.
AWANA stands for Approved Workmen Are Not Ashamed, taken from 2 Timothy 2:15:
"Be diligent to present yourself approved to God, a worker who does not need to be ashamed, rightly dividing the word of truth."
The best part of the Awana format is that it teaches Biblical truths with Scripture memorization to back it up. I want my kids to know what they believe, and the Biblical basis for "WHY?" as well.

This was Emma's second year in Truth and Training, and she finished her book again this year, earning a class trip. The kids who finished their books all got to go to an amusement park with their leaders. It was a wonderful incentive!
Overall Emma really enjoyed her school year. I was excited to watch her grow and develop as the year went on. She is more of a young lady than a little girl!
Blessings,
Laura

©2012-2013 Loving and Learning on the High Plains. All rights reserved. All text, photographs, artwork, and other content may not be reproduced or transmitted in any form without the written consent of the author. http://www.homeschoolhighplains.blogspot.com