This week we tried something I've been wanting to do for a while, make hummus. I'd bought the dry beans a while back and
cooked them up
, but I tossed the in the freezer because I didn't think I could pull it off. This week we have been enjoying all kids of great veggies from our bountiful baskets delivery, and I decided we might as well add home made hummus to the mix.
This recipe comes from
HERE
. (of course I've tweaked it.)
2 1/2 cups cooked garbanzo beans
1/4 cup water
3 Tbs. tahini
1/4 cup lemon juice, or juice from one lemon
1 teaspoon salt
2 cloves garlic, halved
1 tablespoon olive oil
1 tsp cumin
Place the garbanzo beans, tahini, lemon juice, salt and garlic and cumin in a blender or food processor. Blend until smooth, adding olive oil as it blends. I also added a 1/4 cup water. Transfer mixture to a serving bowl.
Drizzle olive oil over the garbanzo bean mixture.
Now my biggest trouble is keeping the kids from eating it all!
Linked: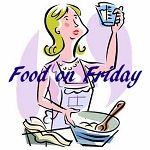 ©2012-2013 Loving and Learning on the High Plains. All rights reserved. All text, photographs, artwork, and other content may not be reproduced or transmitted in any form without the written consent of the author. http://www.homeschoolhighplains.blogspot.com