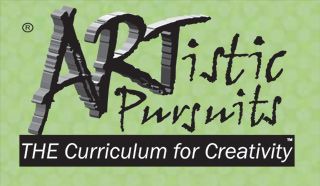 All of February we had the joy of reviewing
ARTistic Pursuits'
book for
Elementary 4-5th grade, Book One: The Elements of Art and Composition
by Brenda Ellis. This was just the right level for Tyler and Emma in the 4th and 5th grades, as that is the suggested age range (age 9 and up). Mayda (age 7) even joined in with us for a few lessons. This book retails for $47.95*, and has 92 pages packed with 230 illustrations. It is a non-consumable comb bound text, meaning it could be used again and again. There are 16 Units, each consisting of about 4 lessons. Be sure to click the product link above to see sample pages.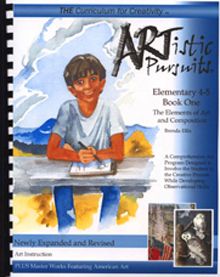 This was a perfect fit for our 4 day school week, and we worked through one unit per week easily. In a 32 week school year,you could do art 2 days a week and get through this book easily in one year. Each unit was broken down into these four parts:
Building a Visual Vocabulary (first page)
American Art Appreciation and History (second and third page)
Techniques (fourth page)
Application (fifth page)
Each part included engaging instructions and a simple assignment to create something, so the kids could practice what they learned right away. Including plenty of time to create, they suggest you allow for an hour for each session. We rarely needed the full hour to complete the assignment, usually only 20 minutes. The teachers notes suggest that the full hour will be something to work up to, and that by the end of the book the student will be spending much more time on each assignment than they did at the beginning of the year.
For the first seven units the only materials needed were sketch paper, erasers, sharpeners, ebony pencils, and a paper sack. Since my grandmother was an artist, I had most of these items right here in my home. I showed her the book right after receiving it, and she was excited to see what the kids would do. She even read this first unit through with us.
In unit one, for
Visual Vocabulary,
they talked about orienting your creative space in a vertical or horizontal way, considering the subject matter. The
Art Appreciation
considered the painting
Washington Crossing the Delaware
and then discussed creating art from one's imagination. In the session on
Techniques
they talked about getting set up for drawing and were instructed to draw an object. The final project was the
Application
of all they had just covered.
We went though the first four units: Space, Line, Texture, and Value. With each one the kids enjoyed reading the lesson together with me, and working on the specific assignments. This week we took our various sketches and visited my grandma, and the kids told her all about what they had been studying. She, being an avid painter, looked over their work with a careful eye. then she turned to me and asked if I'm going to keep using this curriculum after the review. "I hope you do," she said. I was so excited that she liked what we had done so far. We do plan to keep going with it!
Until now, everything we had used has focused only on art appreciation, or on only creating. This book artfully blends both into each and every lesson. The kids enjoyed creating as much as they enjoyed seeing the various American artists.

What I liked:
Even though we had never used this curriculum before, it really can stand alone. We jumped in with the 4th/5th grade book and were able to take off without having done the previous books.
The author, Brenda Ellis, stresses that making art helps us see our world with more appreciation and detail. I find that to be very true, and I appreciate the real life value which her perspective gives to this elective.
This is a newly revised version for 2013.
I find the price to be very reasonable to our family, considering the book can be used over and over for all of my children.
The easy scheduling of this book, and the tips for doing so, right on page 3.
The pages are well arranged and visually appealing.


What I didn't like:
Only that I had not tried this curriculum sooner!


Bottom Line:
This one is a keeper. I am so thankful we got the opportunity to try it out. I had never heard of this curriculum, and would have never tried it otherwise. I plan to use this book with all of my students, and will consider buying the editions that follow in the years to come.
Several different grades were reviewed by the crew, so be sure you click below to check them all out:

Disclaimer: I received a free copy of this product through the Schoolhouse Review Crew in exchange for my honest review. I was not required to write a positive review nor was I compensated in any other way. All opinions I have expressed are my own or those of my family. I am disclosing this in accordance with the FTC Regulations.
©2012-2013 Loving and Learning on the High Plains. All rights reserved. All text, photographs, artwork, and other content may not be reproduced or transmitted in any form without the written consent of the author. http://www.homeschoolhighplains.blogspot.com
*Prices are correct at time of review, but may be subject to change.