Over the past month we have enjoyed an online subscription to
Supercharged Science's
program
E-Science,
which costs $37 per month for K-8, or $57 per month for access to K-12th grade programs of study. While I don't have any kids in the 8-12th grades, I was given access to all grades for the evaluation and it was great to see the caliber of work available on all levels.
"Aurora [Lipper] is creator of the curriculum and teaches 80% of the material herself. Here's some quick background on her:
Aurora is a real rocket scientist. She worked for NASA, has designed rockets, has 3 patents for her inventions, holds a graduate degree in mechanical engineering, did PhD work at Stanford University, has taught on the faculty of Cal Poly University (she was the youngest faculty member ever hired by the Mechanical Engineering dept.), has taught K-12 science to well over 10,000 kids, is a licensed pilot, and currently serves as president of the California Central Coast Astronomical Society. AND, she is a stay-at-home mom to our 4 kids."
~ Al Lipper, Director & CEO
This was pretty impressive to me, and I was excited to be working with a family-run company. You can tell that science is their passion, and Aurora has a talent for communicating her passion. Her teaching style immediately appealed to my children. We just couldn't wait to get started. You can get better acquainted with Supercharged Science on their
Homeschool Blog
.
We utilized this mainly with Tyler and Emma ( who are in 5th and 4th grade), but often found that Mayda and Wyatt wanted to join in, and often could. Some of the experiments and projects were noted to be geared for 9th grade and up or included special instructions on how to expand an experiment for this older age group. But other than that, this program provides the information in a one-size-fits-all kind of way.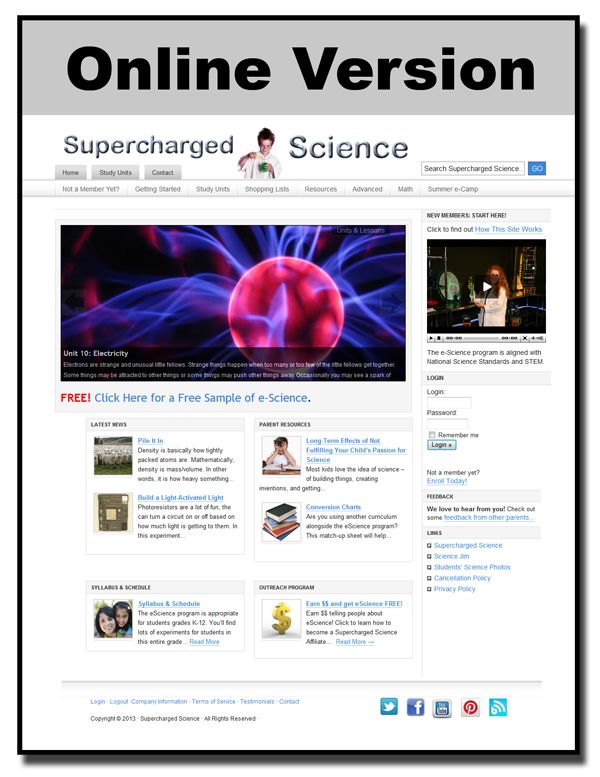 This online program includes over 900 science experiment videos and 2,000+ pages of lesson plans. It is an online science lab with everything you need to explore a comprehensive list of science disciplines:
An introduction to the Scientific Method
Mechanics
Motion
Matter
Energy (2 units)
Sound
Astrophysics
Chemistry (2 units)
Light
Electricity
Magnetism
Alternative Energy
Thermodynamics
Electronics
Life Science (2 units)
Biology (2 units)
and Earth Science (coming soon)
A regular subscription unlocks the first several units, and then each month more units are unlocked. If a subscriber needs access to a unit not yet unlocked, a simple email can usually get that worked out. Each unit has an introductory video and lessons plans, and is broken down into 2 to 6 lessons ( usually 3 or 4). Each lesson further consists of:
Highlights: an overview of that lesson, so you know the key concepts.
Reading: textbook material to take the concept as in-depth as you need. (online or pdf format)
Experiments and Videos: several fun experiments to illustrate the text. Each with a supply list, instructions, and an in-depth video.
Exercises: quiz sheets (and answers), so you can check what your students absorbed. (online format)
During the review period we used the program two different ways. First as a supplement to our current science curriculum, and then we used it as a stand-alone program.
This program can be used in conjunction with whatever curriculum you are currently using
. They even offer a spreadsheet to match up the Study Units with the syllabus of many commonly used science curriculum. Our curriculum wasn't on the list, but I found it easy to match up with units, since the one we are using is quite deep into one topic, but not very broad into other topics. If we had wanted, they offer to create a syllabus for curriculum not on the list.
So we spent two weeks doing our regular studies into aquatic life, and matched it up to the lesson plans and experiments in the first Study Unit of Biology, and a bit of the videos in the Life Sciences Unit. We found that the videos/experiments were the main tool that enhanced what we were already studying separately. While the program could be used that way (as a supplement), I don't think that this was how this program really shines. Also, considering the cost of subscription, I don't think it would be practical to pay that much to only use this as a supplement.
The second way I used the program, really the main way to use it, was to use it as a complete curriculum. This program is massive, as broad as it is deep. It hits every learning style: with plenty of reading, plenty of hands-on, and plenty of video. For this period, we worked deeply through the Unit on Matter. It had two lessons: Atoms & Density and Solids. We first watched an introductory video, and then I downloaded the pdf lesson plan for the unit. It was 33 pages and included: a shopping list for the experiments; key vocabulary; a description of the unit; the text of the lessons; instructions and questions for the activities, experiments, and projects; exercises for both lessons; and the answers to the exercises (like a simple quiz sheet).
Since we were going out of town for the week of Easter, I printed this and took it along. (It would be wonderful if this program came with a mobile app for the videos!) We were easily able to watch the videos and do a couple of the experiments at home before we began studying the unit text. Aurora suggests in the instructions that you should let the kids do a few experiments first, to get them interested.
It's important to explain
the way this program is taught is completely inside out,
and that is why it seems to work so well. Instead of teaching a concept and illustrating with an experiment, this program asks kids what they are interested in and turns it into a fun experiment. Then the text is there to offer science facts and answer the questions that should naturally follow.
After a few introductory experiments, we spent a week reading through the text. This took time because the text was pretty in depth and we had to discuss and work through it. After that we watched more of the videos that went along with the unit and did several more experiments. We then talked through the questions and answers at the end of the unit.
All together it took us almost two weeks to work through the two lessons, but we went pretty in-depth. I think some of the material was a little over their heads, as it would be with any one-size-fits-all program. If you wanted to get through all of the units in a school year, you would not be able to do all of the experiments, but you could hit on the ones that interest your kids best.
Our kids really understood the stuff they saw and tried for themselves. It was awesome to see how excited they were about creating plasma energy in the microwave oven, and so much more. I'm including some pictures of our favorite experiments. Aside from the unit on Matter, we also did experiments that came in the regular emails. We made a hovercraft from a bottle top and a CD. That one was a real hit!
Since I'm mentioning the emails, I must note that over a period of 5 weeks, we received 20 emails from E-Science. It was a bit much for me, but it did remind me to get the kids online and use the program more. I think I'd prefer to get fewer emails.
Other features on the Study Units page include:
Science Fair Projects
Mathemagic
Parent Resources
Science E-Camp
When we started using this program I was really interested in the kids creating a science fair project to enter in the science division of our local 4H fair. In this section I found instructions for 8 different fair projects (two of them were for 9th-12th grade). Sadly, none of them fit within the science categories offered through our fair, but they did each cover the basics of how to do a fair project properly from start to finish, and how to make it fun! I hope to adapt that process this summer to still put a project together before fair.
The Parent Resources page was a huge help to me. There we found a fun game you can print and construct for a space version of Monopoly. My kids LOVE monopoly and I had a space game similar to this when I was young, so I'm sure this will be a new favorite here. The Parent page also had links to a Science Activity Manual and Video Series (in 5 parts), a great description of the Universal Troubleshooting Process (UTP), and a Science Experiment Guide.
What I liked:
Being able to print the entire Lesson Plan for each Unit.
This program covers all the bases very well.
Aurora and Al are wonderful teachers, and in the videos you can see that they love science and teaching children.
I LOVED that most of the experiments did not require a trip to the store, or a hefty bill from a science supply company. These were everyday items.
This curriculum focuses on observable science and leaves the origins of the earth out of the picture. I never found one item that would conflict with the Biblical worldview we employ in our homeschool.
While this is a digital product, it is not dependent on printing a lot of material. I LOVED this.
What I didn't like:
No way to access the files and videos without a computer, it would be great on a laptop or iPad though.
The biggest trouble was that if I had not been able to review this, I would have never been able to afford the subscription.
It really isn't suited or priced to be a back up for other science curriculum, but it would work ok that way if they offered a cheaper subscription to just the videos or something of that nature.
Bottom Line:
This science curriculum works best as a stand-alone product, and it really
can
stand alone. It covers everything needed for a comprehensive science education. The monthly cost is a bit out of my budget for a single subject, although being able to use it for all of my students at once helps to spread the cost. While it is offered for K through 12th, I think I would recommend that a 7-10th grade student to work through this in-depth for about 2 years and would then be completely ready for advanced high school science courses. The inside out way of approaching science, coupled with Aurora's passion for teaching it, makes for a really great product.
You can try out a free sample of the program and see if you agree!
For more reviews,
visit the rest of the Crew:

©2012-2013 Loving and Learning on the High Plains. All rights reserved. All text, photographs, artwork, and other content may not be reproduced or transmitted in any form without the written consent of the author. http://www.homeschoolhighplains.blogspot.com
*Prices and links are accurate at the time this is published, and are subject to change.