I was very blessed to be chosen to review the
KJV Homeschool Mom's Bible
from
Zondervan
. I had been looking for a new Bible to use for my regular meetings with my mentor. (Love her!) My personal Bible is falling apart, so using it for study was getting difficult. I used this Bible for my regular Bible study time all this past month, and became familiar with the features it has.
Of course, the Scriptures are applicable for all ages, but the devotionals in this Bible are specifically aimed at mothers who are "in the trenches" homeschooling their children.
This Bible retails for $34.99 and its features include:
365 daily meditations with prayers written by Janet Tatman, a veteran homeschooling mother with more than 25 years of experience homeschooling
The main reason this is called a Homeschool Mom's Bible is because all of the devotionals are written from the perspective of one homeschool mom talking to another. Janet Tatman is the author of all of the devotionals inserted throughout this Bible. They are dated with the day of the year (January 1st, etc.), and there is a devotional on every 4th page or so. Each devotional includes a Scripture passage (not usually related to the surrounding Scriptures it is sandwiched between), a commentary on that passage, and a sample prayer to help direct the heart attitude.
I used this with my daily devotional time, and the daily meditations were WONDERFUL. They were always right on target with a homeschool mom's heart, and every illustration was something I could relate to. I loved her application of Scripture and prayer to each situation. I really LOVED this aspect of this Bible.
Janet writes for Alpha Omega Publications as a copywriter and wrote the Daily Focus, a daily devotional sent out by email. If you are a fan of her there, you will recognize these are the same devotionals, all found in one place, in the KJV Homeschool Mom's Bible.
The full text of the classic King James Version (KJV) Bible
This is the most important aspect of this Bible, that is contains the complete Word of God, inspired and infallible. I cannot say enough of how much it has changed my life to be in the Word, and to be hiding the Word in my heart. Even in this busy life, this is one time investment that pays dividends far into the future. As Vicki Farris says in the Foreword, "Trust me, the laundry can wait 15 minutes more..." And she is SO VERY right.
Foreword from Vickie Farris, author, homeschool mom, and wife of Michael Farris, (founder of the Homeschool Legal Defense Association)
I love the gentle way Vickie's foreword encourages us that the time investment is worthwhile. As a mom of ten, she understands how little time a homeschool mom has for digging into the Word. She encourages us to take time for God's Word, even if it is just enough time to grab one of the "nuggets" of Scripture in Janet Tatman's devotionals.
Topical index (of the meditations/devotionals)
Aside from the devotionals, foreword, and about pages, the only reference in this Bible is the topical index in the back. I was studying in this Bible and thought I'd find a verse by index, when I discovered, the index is
only of the devotional pages.
That was my only disappointment in this Bible, that there are no cross references, no study helps, no topical index of Scripture, and no concordance. Very plainly, this is a Bible with an interspersed devotional, specifically geared to homeschool moms.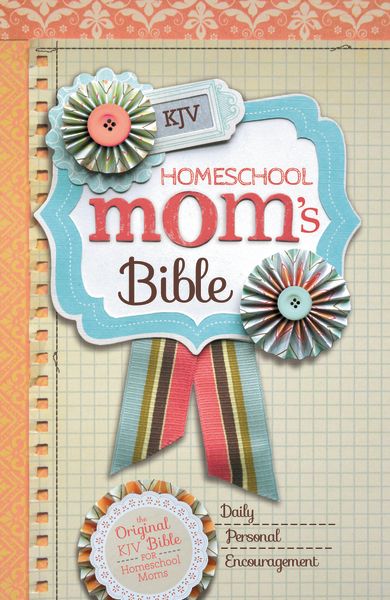 The cover and dust jack are identical, with a scrapbooked feel. <3
My thoughts:
I used this Bible in my daily devotional studies, and took it with me to church and really everywhere in my little book bag. I grabbed it often to look things up, and became familiar with it quickly.
The devotionals were right on and very encouraging. They were easy to read in less than 10 minutes and gave me a verse and a prayer to meditate on.
I was disappointed to discover it didn't have any study helps of any kind, and that the topical index was not for the Scripture, but for the devotionals. I found the price a bit high for as "base model" of a Bible as it was. I think I would have liked to just buy a devotional separately and use a Bible with a few more features. I miss the cross-references the most, as I like to look up corresponding Scriptures when I'm studying.
I am still using, and will use, this Bible as my morning devotional Bible. I can quickly find the day's devotion, and have a quiet moment before the chaos begins.
It was fun carrying a Bible that identified me as a homeschooling mom, right on the cover. I wear the badge of Bible lover and homeschooling mom quite proudly.
Be sure to read
all the other reviews
of this resource as well as the NIV version of it, by clicking the banner below:

©2012-2013 Loving and Learning on the High Plains. All rights reserved. All text, photographs, artwork, and other content may not be reproduced or transmitted in any form without the written consent of the author. http://www.homeschoolhighplains.blogspot.com