We were more than excited to have the opportunity to review
News Current (for grades 5-6)
, from
God's World News.
We had no idea we would be surprised with a copy of
World
news magazine(for adults) Magazine as well. You can subscribe to News Current for $28 a year, and that includes:
10 issues (monthly, but for Dec. and May) You can also get a "school year" subscription, $21 for 7 issues!
32 pages each
Access to the kids' website: www.kids.wng.org
Biographies, extras, quizzes, and lessons to print, as well as answer keys... all on the website!
20x30" map, sent out with the Sept. issue, so you can find each news story on it. There are a handy co-ordinates provided to do just that!
Lessons on Civics, Geography, Politics, and even a little History!
Vocabulary exercises in every issue, I'll share more about that in our "How We Used This"!
Editorials and Graphics
Postage included
When we received our magazines we immediately put the map on our school wall. It was a handy tool for understanding where these news stories took place. The kids got right into reading them, and I had to go looking for them when I wanted to read too. I found the articles to be right at the 5th-6th grade reading level. With some running a quarter page, and some spanning 4 pages, there was something for every attention span. The articles covered current events from a wonderfully Christian perspective. There were also human interest stories about individuals from the past and present.
My kids love to read the newspaper, so I knew if I set these out they would jump right it. They did look them over some, but didn't really get excited right away. I noticed the magazine had a secondary cover of advertisements, and I suspect it looked a bit more like advertising mail at first glance. So I removed the cover and let the magazines shine with their inviting cover photos, and then they were all the rage around here. There weren't any advertisements within the kids magazines themselves.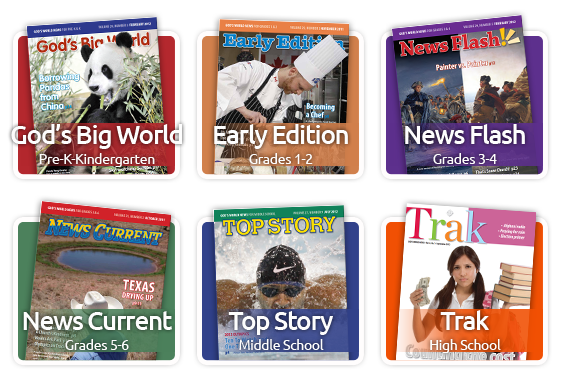 We used them a few different ways:
1. Excellent reading material: We receive lots of kids stuff in the mail, but most of it requires a bit of proofing from mom before it is kid material. This was a refreshing change, to know it was from a Christian viewpoint and geared for their ages. They really enjoyed reading these casually.
2. Geography: Because of the global nature of the magazines, we coupled it with our geography studies. After studying a country, I handed the kids the three issues we received and asked them to find an article about that country. It really brought the 3rd dimension to an otherwise very 2 dimensional school subject. The map they sent also helped a LOT with this.
3. Vocabulary: One of the kids' first projects were to do the vocabulary quiz, Weeding Words, in the back of the magazine. Throughout the articles there were vocabulary words printed in blue type, so they would stand out. Twelve of those words are featured with multiple choice answers for their meanings. Finding them in the articles gave them context and helped the kids define them.
5. The kids also answered the quiz questions on the articles to see how much they learned or retained. We didn't get to do them all, but the answer keys are located on the website.
4. Online content: using our customer number we were able to log into the
God's World News website
and access more features such as: biographies or topical articles to read or print, often expanding on the topics in the issues. Answer keys to the quizzes and Weeding Words pages. We also enjoyed digital versions of the other age levels of the magazine. This was particularly helpful since the content is similar, but the reading level was different. I was able to pull up a younger "version" of an article that my 7 year old had seen in her sister's magazine.
5. Access to a
Kids' website
where kids can browse articles from the magazine and more, all well illustrated with graphics and photos, arranged under 6 tabs:
MySci: all of the science articles
Creation: all of the animal and earth articles
Time Machine: all of the history or artifact articles
People/Places: human interest pieces
Know Me? : biography articles
Fun Stuff: comics!
There are also Teen, Radio, and Video parts of that website, but each is a separate subscription. Since we were only subscribed to News Current, the kids page was our main area of exploration. You can see a
sample of News Current here
.
It was an extra special blessing to receive
World
magazine as a bonus, which sells for $47.88 annually, or $23.88 for the digital edition subscription only. I have often read other (secular) bi-weekly news magazines, so this was a refreshing change. The articles were well done, relevant to the day, and from a Christian worldview. I loved it! I have received two issues now, since it is a bi-weekly magazine. Like other bi-weekly news magazines, it covers all the headlines of the day, and issues that are the top of everyone's list. It's not a flimsy magazine (or 26 issues a year) either! The one I received today weighed in at 72 pages. These issues covered topics like:
Benghazi
Terrorism
Online Addictions
Death Penalty
Gov't Shutdown
Common Core
Abortion
Marriage Longevity
Christian Persecution
News, Quick Takes, and Quotables
Reviews of Movies, Books, and Music
Lifestyle, Sports, Technology, and Science
Houses of Worship and Religion
Editorials from: Joel Belz, Janie B. Cheaney, Mindy Belz, Andree Seu Peterson, and Marvin Olasky
The articles were well done, and the photos were the cream on top, not a distraction. While there were several full page advertisements in the World magazine, they weren't too many or too distracting. World also came with an online log-in for reading the web versions of the articles and more. There were also podcasts, videos, and extra features there.
What I liked:
Of course, the Christian perspective is the main reason I love these magazines
Great photos and great journalism
Relevant online content
Maps and content from all over the world
In the News Current magazines, the page numbers are quite low, considering this isn't even a fully monthly magazine (10 issues a year), I wished the issues were larger.
Also, the paper quality on the News Current Magazine was quite low, more like newsprint. I worried about the pages tearing easily. Neither of these issues were a problem with the World magazine, which was printed on standard glossy magazine paper.
I would wholeheartedly recommend the World magazine to any Christian family. I would also recommend the News Current magazine to homeschool families for a Christian global perspective. If I had to choose one OR the other, hands down the World magazine gives you more for your money. The online content is nice, but nothing quite replaces the benefit of real God-honoring news, right in your hands, and on your coffee table.
To read all the reviews of this magazine, as well as the other age level magazines offered, be sure to
visit the crew blog
by clicking the link below.


©2012-2013 Loving and Learning on the High Plains. All rights reserved. All text, photographs, artwork, and other content may not be reproduced or transmitted in any form without the written consent of the author. http://www.homeschoolhighplains.blogspot.com