I am so thankful for the wonderful gift of Salvation... bought by blood, for me. And for the new life that I live, and for the opportunity to celebrate life, resurrection, new beginnings: in remembering Christ rising from the tomb. Such a fitting thing for springtime...
We made
our resurrection cookies again
. I found on the recipe notes that we have been baking these since 2006. So this was our 7th year. I find this amazing because I often find the word tradition so laughable. In my quest for memorable moments, I begin "new traditions" every year (especially Christmas ones), but they never seem to stick. This one does. I think because of the real reminder of his suffering, and the real joy we share... amid a morning rush of hair fixing and finding lost shoes before the early Easter service... as we run to the oven to see that the "tomb" is still sealed, but the cookies inside are hollow, and all the children cheer "He is risen!"
Emma had just memorized (
at AWANA
) and recited:
Matthew 28:6 "He is not here; for He is risen, as He said. Come, see the place where the Lord lay."
Mayda exclaimed: "Look inside the empty cookie! I can see the place where the Lord lay!"
I <3 these moments!
From there it was a busy day: after church a scramble to make lunch before our house was filled with friends and family. It was all so wonderful that I didn't want it to end. That's how celebration days should be! And I am thankful.
Today I was very blessed by
Ann's Voskamp's post about the day after Easter
. Resurrections are happening every day. I have been contemplating joining her in the counting of blessings for some time. I always held off because to call a blessing #1 would feel so much like I never appreciated all the un-numbered blessings before... but I realize that I must say it is #1 of the thousands to be counted, heaped upon the thousands that have been enjoyed (but not numbered) before.
"Joseph gathered very much grain, as the sand of the sea, until he stopped counting, for it was immeasurable." Gen 41:49
So here I go:
1. My precious Savior's blood was shed for me.... for me!
2. He conquered sin and death.
3. I am safe in His arms
4. My husband and children all know my Redeemer as well.
5. Children who memorize scripture.
6. My home and family
7. Friends and family joining us for dinner
8. Springtime!
9. Radishes sprouting in the garden
10. Cheesecake
11. hollow cookies and an empty tomb
... oh so much more...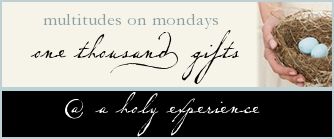 Other posts:
Daddy Dates
Romans 7 Moment - Oct. 11, 2008
Resurrection Story, shared through a cookie
8 years of being a Birth Doula