We had the wonderful blessing of reviewing
TouchMath,
and specifically the
Kindergarten curriculum.
(ages 4-6) You can imagine what a blessing this was, as this is a huge curriculum. The Kindergarten program costs $199.95, a $39.85 savings over purchasing the 4 units separately at $59.95 each.
We also received the
TouchMath Tutor Kindergarten Software
(2 CD set) valued at $99, and the
3D Numerals
valued at $79 (with teacher instruction CD), and the
TouchShapes,
valued at $30. So, in all, we received $407 in materials to try out.
To say this is a "robust" curriculum, would be an understatement. We used it very thoroughly, so this will not be a short review. If you want the short version, you can scroll to the bottom for my "likes", "dislikes", and "bottom line".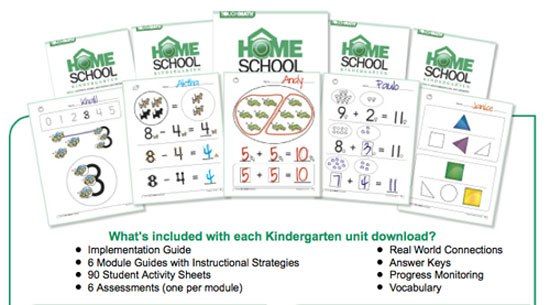 The main part of this curriculum is the
Kindergarten Unit Downloads
. There are four units: A, B, C, and D, and they can be purchased separately or as a package, which is a money savings. All four units have 25 pages of introductory information at the front of the unit. This is exactly the same in each unit, so if you purchase all four and choose to print them, you can print A entirely, and then begin B-D printing from page 26 forwards. This curriculum is not available in a textbook format, so do take the cost of printing it into account when budgeting for it.
Unit A is 203 pages (6 modules), and covers Counting, Adding, and Subtracting up to the number 5
Unit B is 209 pages (6 modules), and covers Adding and Subtracting up to the number 9
Unit C is 209 pages (6 modules), and covers Understanding Numbers 1-20
Unit D is 219 pages (6 modules), and covers Measurement Data and Geometry
We chose to print the entire download, for two reasons: First, so we could have the entire curriculum in a 3-ring binder, and look it over more closely. Secondly, because the instructions are collated with the worksheets, you cannot easily print them separately.
The Units each come as a single PDF file, so you will need Adobe Acrobat Reader to open them. Unlike some PDF files of this size, there are not chapter book marks, or shortcuts to navigate through the Unit quickly. You simply must scroll down until you find where you left off. This was another reason we chose to print it. All total, I printed 800 pages at a cost of about $35. Now that I've used it for a while I think I would probably take the time and sort out the instructions from the worksheets, and only print the worksheets (which account for only 90 pages of each Unit).
The instructions could be accessed on a reader, but at an average of 60 MB per file, it would have to be a hefty tablet. My Android phone version of Kindle could not handle it. Each unit is divided into 6 modules which start over in page numbering, which makes them difficult to navigate for quick printing. A good idea would be to use an online
PDF splitter
to divide the Units into the 6 Modules for easier printing and viewing on a tablet. You will want to take note of the Worksheet page numbers which are continuous, although divided between module instructions.
During the review period I used this curriculum with my son, Wyatt, who is 5 years old and in Kindergarten. Before starting this, he wasn't doing any math, other than learning to count and number recognition. After just a few weeks he was adding and subtracting numbers up to 5!
The recommended work time was 2 to 2.5 minutes, multiplied by the age of the student. We used the worksheets for 15 to 20 minutes a day, and were easily able to do about 25 worksheets a week. As we move into the later units that pace will likely slow down a bit, as the first several modules of Unit A were familiar concepts. We followed our worksheet time with using the TouchMath Tutor Software, which was very fun for him!
I found the instructions sheets (about 10-12 pages of them per module) to be helpful but difficult to understand in places. It read more like tax code, but I did use them. A good portion is given to explaining Common Core Standards and how they are an integral part of this curriculum. This is pretty controversial with many families, so it is important to mention. If you live in a state that is looking to impose Common Core standards on homeschoolers, then this might be a plus for you. For myself, I found that it really detracted from the curriculum. I have since found that many homeschool curriculum are adapting to Common Core.
While using the worksheets, we worked through the concepts of number sequencing as well as simple adding and subtracting. We used the
TouchShapes
with the worksheets to illustrate "adding to" and "taking away" quantities. Wyatt loved this, and he begged to do his TouchMath every day! This was in a large part due to the extras we received.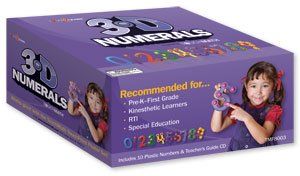 Another extra was the
TouchMath Tutor Software
, which comes on two CD's for the computer. It was easy to install, and pretty easy to use. It made the concepts from the worksheets come alive and Wyatt was happy to "play" with it for 30-45 minutes every day after completing his worksheets. We found that the
3D Numerals
we received really helped as he worked through learning the TouchPoints on the first Tutor CD-ROM. This is important, since the TouchPoint idea is the cornerstone of this math curriculum. The numerals also came with a CD-ROM which included about 50 pages of instructions and worksheets.
With the software, I loved that Wyatt could use the TouchPoints to add up the numbers, or just answer if he already knew the answer. The game verbalizes the instructions well, so the non-reading kindergartner knows what is needed.
The software directs the child to explore a United States map, where different states include different practice concepts. It is important to work through them in the same order as the worksheets do, so it isn't too confusing. Unfortunately, while there is plenty of instructional material in the Unit download, the Tutor Software has very little instructional material, aside from a small pamphlet in the CD case.
That aside, this was the best part of the review for us. If I were doing this on a budget, I would buy the software first. It was engaging, well done, and easy to use. An animated bear leads the child through plenty of great exercises, and he even tells a little information about each state they visit. In between games there is a fun scene of animals or shapes to entertain while giving a short (60-90 second) brain break. My favorite part of the software was the ability to track Wyatt's progress and proficiency on the reports page. It showed what he had worked on, and how often he got his answers right. This was a fantastic tool!
What I liked:
The TouchMath Tutor software is a great tool, and a worthwhile purchase.
The Unit Downloads are thorough and cover a variety of concepts to a very high standard.
The Unit Downloads can be purchased seperately or together.
The Worksheets are fun and easy to use.
The TouchShapes made the Worksheets even more fun, and are an affordable manipulative. They were fun for all of my kids to play with actually!
The 3D Numerals were indispensable with learning the basic concept of the TouchPoints, which is the underlying magic of this curriculum.
After learning TouchPoints for the numerals 0-9, Wyatt had no trouble jumping into adding and subtracting. Amazing!


What I didn't like:
The Unit Downloads were poorly organized (non-continuous page numbering for example) and, coupled with their massive size, hard to manage.
This curriculum meets Common Core Standards, and feels very much like it was completely intended for a large institutional use, and was hardly changed at all to adapt to the homeschool setting. This makes it very hard to teach on a one on one basis.
The price of the Unit Downloads was high for my budget, when you consider it is only one subject. As I have 4 students to shop for with an average of 6 subjects apiece, it was too much.


Bottom Line:
The content is great and the TouchPoint concept can revolutionize your child's understanding of number values. The price of this curriculum would probably prohibit me from buying, but I know from others that the price is very reasonable when compared to the cost of special education and therapy programs. I would personally recommend buying the Touchmath Tutor Software and the 3D shapes if you were trying to do this on a budget. The Unit Downloads can be manageable if you plan time for dividing up the PDF files, printing worksheets, and organizing it better.
This was just my experience; please read ALL of the reviews to get a good picture of this curriculum across all grade levels:

Disclaimer: I received a free copy of this product through the Schoolhouse Review Crew in exchange for my honest review. I was not required to write a positive review nor was I compensated in any other way. All opinions I have expressed are my own or those of my family. I am disclosing this in accordance with the FTC Regulations.
©2012-2013 Loving and Learning on the High Plains. All rights reserved. All text, photographs, artwork, and other content may not be reproduced or transmitted in any form without the written consent of the author. http://www.homeschoolhighplains.blogspot.com