(#289-316 )
linked:
October 23rd: 3 Gifts Begun
A new Scripture memory goal
A new attitude towards my Doula role
A new season as the cool weather rolls in...
Also, a praise for a medical situation for one of the children being easily resolved.
A fearful momma calmed by the Father who knows
October 24th: 3 Gifts Accomplished
A friend who had been waiting LONG, whose time was finally Accomplished!!!
Children's Scripture memory goals for the week: Accomplished!
Learning to lean on Him through extraordinary circumstances, for today: Accomplished! (I certainly wish I did not have to learn this daily!)
October 25th: 3 Gifts Enjoying
Fresh Snow
4 wonderful annual checkup reports at the eye doctor
A delicious meal, prepared by a friend (Thank you Holly!!!)
October 26th: 3 Gifts Extravagant
God's grace towards me, always more extravagant than I deserve
A visit with my Grandma, always a treat
A night out with friends, a date with my hubby even!
A new recipe
Ben and Tyler went hiking/hunting
Great morning at home with my younger crew
October 27th: Humbling, Honoring, Happy
Humbling: a morning conversation
Honoring: sharing a birthday celebration
Happy: The Huskers beat Michigan! Made yummy snacks to celebrate football game night, even if it was only on the radio
October 28th: 3 Gifts in Christ
The Body of Christ, gathered in worship
In Christ, good byes are not forever
Food and Fellowship go hand in hand... :)
...the kids had blessings to add too:
Emma: Thankful for for my friend going to Germany to tell others about Jesus!
Tyler: Thankful we got to go swimming this week
Wyatt: Thankful for Get-well cards from his sisters.
Mayda: Thankful for bedtime prayers
____________________________________________________
linked up at: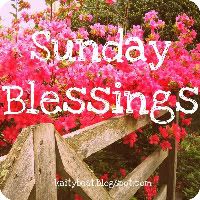 ____________________________________________________
Join us in counting our blessings?
Over at
A Holy Experience..
.