All of October we had the opportunity to review the online learning opportunities at
IXL.com.
We were very blessed to be given a year's access to their
Language Arts
for grades 2-4 and
Math
from grades Pre-K through 12th.
Family Memberships, for up to 3 children, for Math or Language Arts are $13.95 each per month or $19.95 a month for both. The best value is $119 a year for Math
or
Language Arts separately or $169 for both subjects. (Single Child Memberships for Math or Language Arts are $9.95 each per month or $15.95 a month for both.)
When I signed up for this review, I had seen a few ads for IXL, but didn't really know what it was. I thought maybe it was an online tutoring program for teaching math and language arts to kids. After using it with three of my children for several weeks, I can say I actually understand it now.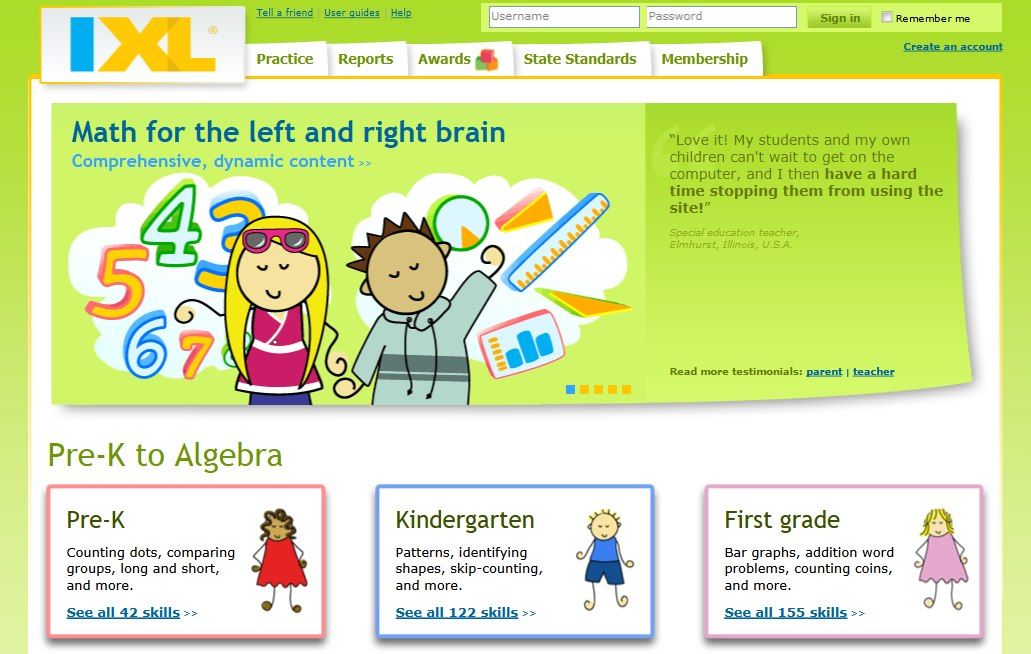 When we first began, I set up our online account. This was so simple and easy that I did it in mere minutes. The next day that the kids tried it out, they each had their own sign in name and password. This made it possible for their progress to be tracked, and for me to look at it in a special "mom" reporting area.
After logging in, my children would choose Math or Language Arts to work on, by the tabs on the top of the page. Along the left side of the page were the grade levels available in that subject. After choosing the grade level, they could choose an area of study on a full page of choices, arranged by Common Core Standards coding. I am not pro-common core, nor does my state require it, but this is how they were arranged. Another option for how to reach the right topic would be to go to the Standards tab and they could see the standards for their grade (see photo 1, top half), specifically according to our state. Under each major heading was a sub-topic to be mastered. If the kids weren't sure what kind of problems the sub-topic heading referred to, they could hover over the title and a box would pop up with a sample problem. (see photo 1, bottom half)
Photo 1
The main thing I wish I had known in advance
was that there is no instruction given. These are practice problems to complement the instruction you are giving your children. So if their curriculum is
not
aligned to state standards, you will have to work harder at finding the categories for them to practice in. If you are, however, teaching curriculum that follows the state standard progression, then this program is an endless supply of practice problems and opportunities for practicing towards mastery.
Correction Illustrations Grades K and 5, Photo 3
That said, there is a minimal amount of instruction given as explanation when a question is answered incorrectly. (Please, click the image at the right to see two examples, enlarged.) This helped my kids to some degree, but not as much as I had hoped. For example, Wyatt, being a kindergartner and a non-fluent-reader, would utilize the audio feature on the Pre-K and K level math practices. It would read him the problem, and he would answer. But if it was wrong, it has no audio selection for the explanation (see photo 3, top half), so he had no idea what it was. I couldn't just set him up to practice and walk away. I would have to stay close to help him understand his problems and mistakes. So, even with the audio feature, I ended up doing this with Wyatt every day. Mayda and Emma were able to work with it a little more independently of me, but not completely.
How we used it:
Wyatt used it quite a bit for math practice. After working with him in his math instruction, I would sit with him and we would practice until he reached mastery. He was completely thrilled by the "prizes" earned by mastering a skill or by passing a time goal. He would hover over the next possibility on the prize board and plot how to earn it.
Photo 2
Mayda used the math parts, but I actually signed up for this one with the intention of really utilizing the Language Arts for her. Since the Language Arts area ranges from 2-4th grade, I thought it would be perfect. Unfortunately we ran into two issues. First, since they don't currently have 1st grade skills on there, she couldn't adjust to anything easier if the 2nd grade material wasn't working. Second, the Language Arts part of IXL doesn't offer progress prizes (see photo 2 above) like the math part. Mayda quickly figured this out and didn't want to work on anything but Math after that. The quality of the Language Arts program was excellent though, and really showed us what we needed to study on more to come up to state standards. Here's a great video demo of the Language Arts portion of the site:
Emma is in 5th grade, so while she used some of the 4th grade Language Arts, she mostly focused on the 5th grade Math. This worked well for her, since her current math curriculum doesn't use a mastery approach, this gave her much more opportunity to master a skill set. She did really well with it, and was able to understand the "wrong answer" explanations better than Mayda and of course, Wyatt. For her it really re-enforced what she was studying and gave her a traceable place to see progress.
For myself, as the Mom/administrator account, I was able to see all kinds of reports (see right) on the kids' work. It seemed neat, but really the reports gave me very little usable information. I imagine the data there will become more interesting and relevant when we've been using it for more than 4 weeks. But of course right now most of their numbers have no history, and they have all improved 100% over where they were last month. The most relevant part of the reports page was the list of skills mastered or attempted, where I could quickly track their work.
Bottom Line:
If you are looking to assure yourself of where you are hitting the mark on teaching state standards in Math and in 2-4th grade Language Arts, this is a great tool. If you are teaching Math or Language Arts and really need self-grading practice problems, this is a great tool. If you are looking for inexpensive online tutoring in Math or Language Arts, this is probably not the tool you need. Overall, I liked it. The kids liked it on an off, but not as much as some of the other programs we've used before. I had to assign it, or they'd skip it. They never asked to use it on their own. Although most real school-
work
is that way. This is an amazingly huge supply of practice material, more than you will need by far, but only in these two subjects. That is the main reason I felt the subscription rates were a bit out of my range.
Be sure to read all of the reviews of this online product by
visiting the Crew Blog
:

©2012-2013 Loving and Learning on the High Plains. All rights reserved. All text, photographs, artwork, and other content may not be reproduced or transmitted in any form without the written consent of the author. http://www.homeschoolhighplains.blogspot.com