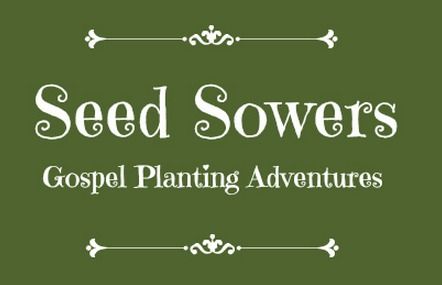 I was thrilled to be able to review the book:
Seed Sowers: Gospel Planting Adventures
. It is
available for purchase for $12.50
at Grace & Truth Books. The stories are appropriate for all ages; my children (ages 5-12), and my sister (age 20-ish), my husband, and I all enjoyed it thoroughly.
A little background on this author:
Gwen Toliver is a fellow TOS Review Crew member and homeschooling mom of 8 (ages 1 to 15!), and I had already admired her blog and family. But I had no idea of the depth of her writing talent until I received this book. Giving her talents for God's glory, this book was a true work of love for the ministry which their family is wholeheartedly involved in at Wycliffe Associates since 2010. For more about Gwen, her husband, John, and how she became involved in this project,
please
see the video linked at the end of this review.
It is well worth your time
.
About the book:
Following a wonderful foreword by Gracia Burnham, Gwen launches into 21 different stories as told to her by different missionaries she met through Wycliffe Bible Translators. Each story is told from the perspective of the missionary she interviewed, and includes colorful details and moment by moment retelling so that you feel as though you are going through it with them. The stories are varied from Bible translation process to medical drama, from harrowing near-death escapes to heart-wrenching conversions. She includes stories from:
Rose Dobson
Jimmy Wroughton, Jr.
Dorothy Shaler
Elizabeth Danielson
Betty Snell
Bob Longacre
Bob and Jo Ann Conrad
George Cowan
Marj Liedtke
Harriet Fields
Glenn and Emily Stairs
Lynn Landweer
Jim and Gloria Wroughton
Don and Helen Johnson
Vi Reimer Stewart
Eddy and Eva Riggle
Marianna Slocum and Florence Gerdel
Roger and Suzanne Doriot
Gene and Dottie Minor
Karl and Joice Franklin

Harriet Fields and Hattie Kneeland worked to translate
Scripture for the Matses of Peru

Bruce and Jan Benson
While you may not recognize all of these names, they are precious heroes to our family now! God mightily used these people to bring His Word to the ends of the earth, and their stories are worth hearing again and again. Some of these stories may be familiar to you, such as Don and Helen Johnson's perspective on the tragic loss of 5 missionaries to the Auca Indians of Ecuador. Nate Saint, Jim Elliot, Pete Fleming, Ed McCully, and Roger Youderian became part of history on January 8, 1956, when they were killed upon making first contact with the Auca people. I grew up hearing their names and stories, and I personally knew some of Nate Saint's family. I knew the rest of the story, how God used their families to bring the Gospel to the Auca, and how the love of God can triumph over even the deepest wounds. This book shared with me 20 more stories such as this, less known, but just as amazing... how God is working all around the globe so that His name would be known.
How we used it:
We read this book aloud as a family, one or more chapters each night at bedtime. Often I would finish a chapter and the children would clamor "One more! One more!" So we averaged two or three chapters a night. The chapters were not too long, easy to read, and even included pronunciation guides for the complicated names of places, tribes, and rivers. At the end of each chapter was an "Author's Note" telling the rest of the story, such as when each translation was completed, where those missionaries are today, and other important details. We really enjoyed this and felt like we were a part of their ministry! The
added photos
on the book blog helped flesh out each story, as well as a wonderful audio clip there about the "
whistling man.
"
After finishing reading this book as a family, my oldest children snatched it up to re-read it. My youngest began requesting the chapters by name for bedtime stories. "Mom, lets read 'Don't Lose Your Head!'" (the story of Rose Dobson). I plan on buying this book as a gift for other families, as it is that enjoyable.
Bottom Line:
I can't recommend this book enough. I can't think of anyone who wouldn't love to read it. I think it is appropriately priced and a worthwhile investment to any family library. Gwen has an amazing gift for story-telling and you will be riveted to these pages. We were impressed with the way God moved in these lives, and how He orchestrated these events to reach the ends of the Earth.
2 Peter 3:9
The Lord is not slow about His promise, as some count slowness, but is patient toward you, not wishing for any to perish but for all to come to repentance.
My daughter, Emma, wanted me to share her opinion:
"After reading this book, I was inspired to want to be a missionary. I think this book will inspire many people to do missionary work!"
Click here to read The Crew Post about this amazing book, or click the banner below:

©2012-2013 Loving and Learning on the High Plains. All rights reserved. All text, photographs, artwork, and other content may not be reproduced or transmitted in any form without the written consent of the author. http://www.homeschoolhighplains.blogspot.com