We recently had the opportunity to review the
Essentials
program from
Logic of English
. The package we reviewed was for ages 8 and up, and came with: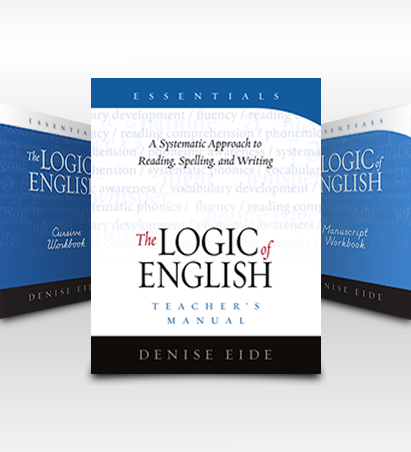 So we received over $200 in books and materials to try! They also offer this whole grouping as a
complete set
, with several extra items not included in my bundle, for a special bundle price of $187.20. Definitely worth checking out!
This remedial program is for anyone ages 8 to adult who needs to improve their reading, spelling, or writing abilities. The idea is to teach how and why words are spelled in a particular manner and how to build them into phrases and sentences. In the beginning of the teacher's manual there are instructions for how to specifically use this program based on the individual needs of the student. The variations include:
Struggling readers and spellers (ages 8 to adult)
Struggling spellers (ages 9 to adult, reading at age level, needing spelling remediation)
Emerging readers and spellers (6 to 7 year old students)
Young emerging readers (5 to 6 years old)
ESL students (all ages)
Denise Eide, the author, developed this program when her own children were struggling with reading and spelling. Her research, and then speaking on the subject, developed into a family business to share the Logic of English with readers and spellers everywhere. You can read her
whole story here
. The program is described there in this way:
The Logic of English® is a systematic multi-sensory approach to learning how to read, spell and write. The method is based upon 74 basic phonograms and 30 spelling rules which explain 98% of English words. Learning these essential tools eliminates unnecessary exceptions, explains hundreds of commonly misspelled words and brings order to the English language. -"About us"
How we used it:
Our 5th grade daughter is so very bright, and an excellent reader. But we have always struggled with spelling. She reads and comprehends chapter books easily, but asks for help when spelling even simple words. I struggle with wondering what I missed in teaching her to spell. So we felt that the Essentials program was really designed with her in mind. We used the specialized plan adaptation for "Struggling Spellers", which was described in the teacher's manual.
With that plan, we were to cover one lesson every 1 to 2 days, with the goal to finish the 40 lesson course in 8 to 16 weeks. For Emma, we did a lesson every two days as suggested. On "day one" of the lesson we would:
introduce and practice the phonograms for that lesson,
present exploring sounds
learn a new spelling rule
write the spelling list (which I would orally dictate)
and then explore the optional activities.
The program also has grammar rules and activities which are optional for the struggling speller program. On the second lesson day we would review the phonograms we had troubles with and do some of the optional activities, often the phonogram and spelling games from the Game Book. Each day's lesson time took from 20 to 40 minutes.
For each lesson we would set up across from each other at the table. I would have the teacher's manual open to the right page and Emma would follow along with her workbook. This is not a "hand off and go study" type curriculum, but more of a one on one intense remedial course. It would be easy to teach it to multiple students at once, and in fact, most of the games worked best with more than one player. We tried including some of our other kids for the phonogram games, but since they hadn't been memorizing the phonogram cards like Emma had been. They really couldn't play with her.
The downside of the program for us was the intense need for one on one teaching. While this is appropriate for very young students, it isn't the norm for our 5th grader, and it was challenging to get a full 40 minutes of focused time in the middle of our school day. We were so much more accustomed to books where the instructions are right on the workbook pages, and she can work independently. I can see, though, how important it would be to give it the attention and focus it deserves, since
it is a remedial course
and intensive. As the instructions state:
"every minute spent learning how to spell will save countless hours of frustration."
This program would work even better for a small homeschool co-op class of students with similar needs. You can also
see samples of the curriculum
here.
I recently discovered the
freebie
section on the website, and am REALLY excited to tap into these resources. There are alternative spelling lists for all 40 lessons, with
videos
of a teacher dictating the spelling list and explaining the words. There are also free printables, like
handwriting paper
.
Bottom line:
Emma saw a marked improvement in her spelling, and we really enjoyed the spelling rule flash cards as well as the phonogram set, since it had really good example words on the back of each card. We discovered that flashcards are a powerful memorization tool for her. I think that spending a semester working our way through this book would take us a long way towards getting her spelling back on track.
This video also helped me a lot with understanding how to use the program more fully:
Read
all the other reviews
of this product and others from Logic of English, by clicking the link below:

©2012-2013 Loving and Learning on the High Plains. All rights reserved. All text, photographs, artwork, and other content may not be reproduced or transmitted in any form without the written consent of the author. http://www.homeschoolhighplains.blogspot.com