We recently went on a quick road trip, sadly to attend a funeral for hubby's great grandmother. Long story short, we never made the funeral because, 350 miles into the trip, our van died. We spent a day stranded in a city we were towed to, and then were able to stay in a hotel with hubby's folks as they returned from the funeral (150 miles further down the road). It was a crazy trip, and we ended up buying a new vehicle there, but we started it out with the best of intentions.
Knowing we'd have to leave really early that morning, I had prepared a cooler full of quick and healthy foods for the trip. Little did I know what a life-saver these would be while waiting for the tow-truck in 100 degree weather! God was really watching out for us that day.
So here's the quick recipe... in a mason jelly jar, layer:
3/4 full of plain homemade yogurt
1 Tbs. of your favorite jelly or jam
and top off with home made granola.
...be sure to pack a spoon!
It is a wonderful thing to have all the convenient protein and pro-biotics, without all the sugar and preservatives of commercial yogurt.
Here are the recipes for the home-made goodness you use to assemble this. We make this all the time!
~~~~~~
Yogurt:
I've been making yogurt for our family for a couple of years now, and my kids LOVE it. If your kids are accustomed to Go-gurts, this may not be for you. But if you've been paying $4 per quart for plain Greek yogurt to go with your granola and blueberries... It's time to make yogurt! It's a huge savings for us. I usually make a batch of 5-6 quarts and my total cost is $4 for the milk plus $1 for the yogurt starter. This is a potential savings of $19 for each batch!
When buying the milk, look for milk produced closer to you and from more local type dairy names. The farther the milk has to travel, the more it was homogenized. The more processed your milk is, the less likely your yogurt will turn out. I could go into all kinds of facts about Organic, non-processed, raw milk, but I'll leave it at this: Try different kinds and see what you like. If you heat your milk as we will in the first step, it should turn out fine even if you started with raw.
Moving on... For the yogurt starter, buy some at the grocery store. I've made yogurt with ultra-cheap strawberry yogurt from the mini-mart, but by far the best results came from a good plain Greek yogurt with live active cultures (the more the better! check the label to see what cultures are in it.) a 4 oz container will make 4 quarts of yogurt, so get two if you're doing more.
Here are the tools you'll need: jar tongs, mini whisk, thermometer (that at least ranges from 90 degrees to 180F), and a tablespoon.
Yes, that's a Pampered Chef Mini Whisk, and a candy thermometer.
To start with, make sure your jars are nice and clean and fill them with fresh milk. Put them in a pot with water around them up to about an inch from the tops. Heat over med-high heat to bring the milk up to temp. I put a lid on the pot to get there faster, but you won't want to put caps on the jars so you can check the temps. Just be sure you don't spill water into them. (don't mind the hard water lines on my canning pot. It's clean, we just have VERY hard water here.)
Heat until the milk reaches 175F. This ensures you've killed any bacteria that may have been in the milk, or your jars. We want to be sure we are only growing the cultures we add, not anything else. :) This is a great time to dip all of your tools in the boiling water as well to sterilize them.
175F
Use the jar tongs to set the jars out onto a towel to cool a bit. They will take a while come come down to our target temp of 95-108F, so be patient... or set them in an ice water bath, like I do. But do not skip the 10 minutes of cooling on the counter before your hit the ice bath, or your jars may crack. This time I had one crack, so don't be surprised if it does. Just keep going with what you have.
10 minutes of rest before the ice bath


bring down to 95 to 108F range
Watch them closely, once the temp starts dropping it can drop fast and go right past your target temp, and then you may have to warm them up. It's not as complicated as it sounds. :)
Once they are in the 95-108F range, add 2 tablespoons of the store bought yogurt to each jar and mix well. I've heard you shouldn't mix too much, but when I did that I had a jar that was solid on the bottom and liquid on the top. So mix well, but don't get crazy. :) This is where I love my mini whisk!
Then quickly cap all of the jars and put them in a picnic cooler lined with a clean bath towel. Add jars filled with hot water from your pot (no caps) all around them, or in a staggered pattern, until the cooler is filled. My cooler holds 8 jars, so this batch was 5 jars of yogurt and 3 hot water jars. Cover with the towel and close up the cooler. Set it someplace it won't be disturbed overnight.
In the morning, check your jars by tipping them to the side and seeing if they "slosh". If they haven't set up yet, add more hot water to your water jars and close it up for another couple of hours. It's not hard to do, and you will get the hang of it quite quickly!
set up nicely, with a little whey to pour off
Granola:
my granola for sale
I make my own (special recipe!) and sell it at the local farmer's market.
It was actually recently featured in the newspaper!
But here's
a great recipe for another granola
.
Jelly:
We used our favorite,
Chokecherry Jelly
. :)
Linked: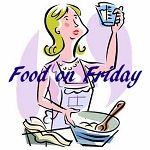 ©2012-2013 Loving and Learning on the High Plains. All rights reserved. All text, photographs, artwork, and other content may not be reproduced or transmitted in any form without the written consent of the author. http://www.homeschoolhighplains.blogspot.com