*Affiliate links may be included in some posts, see my Disclosure tab above. *
Wyatt turned 5 in September, so we allowed him to try some Kindergarten level work during the 2012-2013 school year. He took some beginner steps into reading and we couldn't be more thrilled! We used some books we already owned, and then during the second semester we used several provided by the TOS Review Crew. Wyatt also played t-ball this spring, and really enjoyed it. :)

Click any image to view it on Amazon!
Spelling/Reading
Wyatt had the opportunity to
review ABeCeDarian Co.
's Student Workbook A1.
The
Teacher Manual A1
spelled out the program in terms I could understand. After reading through the instructions, I felt like I had a much better understanding of what a child needs to "decode" well.
"Decoding refers to the translation of print into speech." -Michael Bend, Ph.D., Founder and President
The first section of the manual covers the concept of decoding, and the skills and strategies the book will cover. This may sound complicated, but it really was explained in such a way that the average homeschool mom can understand and apply these profound concepts. I have been teaching my own children to read for over 6 years, and this was a true "aha" moment. "Oh, that's how and why this works!"
After the introduction of the philosophy, the activities in the workbook are thoroughly explained, as well as specific instructions for each page of the workbook. I had worried that the program would be to difficult for Wyatt, who had never "blended sounds" before. But the program is written in such a positive tone, I was hopeful.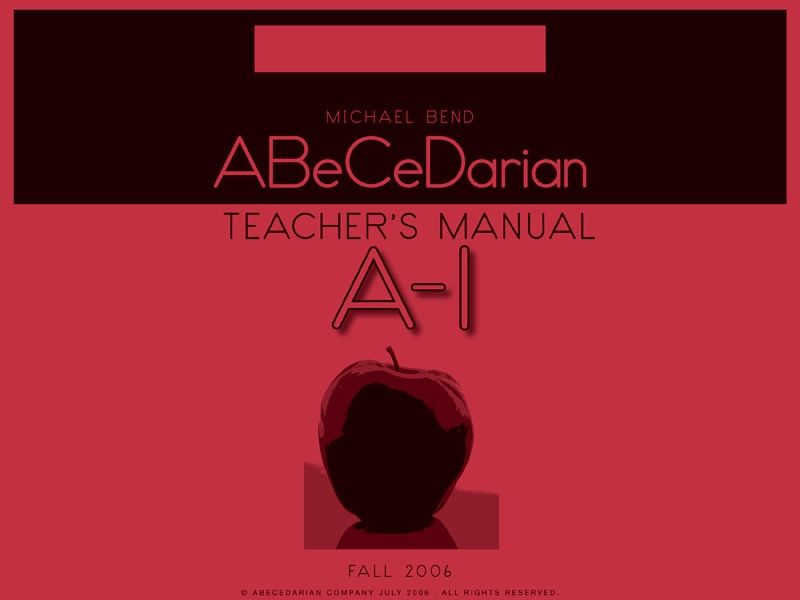 The first day I pulled out the workbook, Wyatt sat down and he sounded out the letters "m" and "o" and "p", and before I knew it, he had read his first word: "mop"! With my other children (and as the teacher's guide noted) we had to practice "tapping" out the sounds for quite a while before the blending was possible. With him it just clicked!
We continued to do 2 lessons per week, with each lesson consisting of 3-6 workbook pages. This worked out to an average of 2-3 pages per day in our 4 day school week. We also began reading with the storybooks. Each one of the
Set of 10 Storybooks corresponds with the Units in the Level A Workbooks. Level A1 and A2 are each made up of 28 lessons divided into 12 units.
I was amazed when only 2 weeks into his reading adventure, Wyatt had read 2 of the storybooks. He loved reading them too. I have always joked that childbirth was easy for me, but potty training and teaching to read were my biggest dread! But here, with my youngest child, we were reading, and it was easy! I am so thankful we got to try this out.

Another feature of each page is the way the lines for writing are just large enough for a beginning writer. There are starting dots on each letter, so when a child copies a word, they know just where to begin. Wyatt found this really helpful, and loved making his letters and words as carefully as he could. He would often ask me to come back and circle the best looking letters. Then he would ask for a "100% A+" on his page. I doubt he even knows what those are. It warmed my heart when he made a card for his grandma, and even wrote the "To Bettie" and "From Wyatt" all by himself, and it was nice and legible.
Math
Before starting
TouchMath Kindergarten
, Wyatt wasn't doing any math, other than learning to count and number recognition. After just a few weeks he was adding and subtracting numbers up to 5!
I found the instructions sheets (about 10-12 pages of them per module) to be helpful but difficult to understand in places. It read more like tax code, but I did use them.
While using the worksheets, we worked through the concepts of number sequencing as well as simple adding and subtracting. We used the TouchShapes with the worksheets to illustrate "adding to" and "taking away" quantities. Wyatt loved this, and he begged to do his TouchMath every day! This was in a large part due to the extras we received.
Another extra was the

TouchMath Tutor Software

, which comes on two CD's for the computer. It was easy to install, and pretty easy to use. It made the concepts from the worksheets come alive and Wyatt was happy to "play" with it for 30-45 minutes every day after completing his worksheets. We found that the

3D Numerals

we received really helped as he worked through learning the TouchPoints on the first Tutor CD-ROM. This is important, since the TouchPoint idea is the cornerstone of this math curriculum. The numerals also came with a CD-ROM which included about 50 pages of instructions and worksheets.
With the software, I loved that Wyatt could use the TouchPoints to add up the numbers, or just answer if he already knew the answer. The game verbalizes the instructions well, so the non-reading kindergartner knows what is needed.
If I were doing this on a budget, I would buy the software first. It was engaging, well done, and easy to use. An animated bear leads the child through plenty of great exercises, and he even tells a little information about each state they visit. In between games there is a fun scene of animals or shapes to entertain while giving a short (60-90 second) brain break. My favorite part of the software was the ability to track Wyatt's progress and proficiency on the reports page. It showed what he had worked on, and how often he got his answers right. This was a fantastic tool!
Science
Mayda and Wyatt worked through this Science book together.
My Father's World from Christian Liberty Press
uses the days of creation as a chapter framework as they study creation as a whole. The activities are simple and there are questions to review at the end of each chapter. This one goes well with taking regular nature walks.
All Subjects:
This year we used
My Father's World, Kindergarten
with Wyatt, for his main curriculum. It was a gift to me from a friend, or I wouldn't have probably tried it. I'm not very partial to complete boxed curriculum, but this was a HUGE surprise to me!
The complete kit comes with:
Teacher's Manual
Student Sheets include:
Student pages
Teaching charts
Game cards
Badge patterns
Monthly calendars
Short vowel song cards
100 chart for math
Activity sheets
Alphabet Flashcards
A-Z Textured Letters by Lauri
What Really Happened to the Dinosaurs?
Butterfly Garden
Ant Hill
For the Children's Sake, by Susan Schaeffer Macaulay
Say Hello to Classical Music
Cuisenaire® Rods
Cuisenaire® Rods Alphabet Book
Inflatable Globe
____________________________________________


The friend who gave it to me (thank you Kelly!!!!) did not have the complete list as above, but had pretty much everything I needed. And she had already organized it into a tote (see photo), and collected lots of complimentary material. She is SO awesome. I would have struggled to plunk down the cash to try something new, but since she shared, I'm so glad I tried it.

What we had included:
Teacher's Manual
Student Sheets include:
Student pages
Teaching charts
Game cards
Badge patterns
Monthly calendars
Short vowel song cards
100 chart for math
Activity sheets
Alphabet Flashcards
A-Z Textured Letters by Lauri
What Really Happened to the Dinosaurs?
Ant Hill (a gift from Grandma and Grandpa!)


Each week's unit covers one letter of the alphabet, after the initial weeks of studying creation in depth. Each unit covers a fun hands on activity for each day, a reading list for great library books to check out, and most importantly a lot of Scripture and a simple lesson to apply all week long. For example:
One week we studied the Turtle, for the letter T. There was a short motto: "I don't quit; I persevere." There are 6 days of lessons with a different activity to re-enforce the letter T and the science exploration of turtles (which we expanded to other pond creatures). There were Scripture passages pertaining to the character of perseverance:


There was also a poem about turtles, and instructions to read the story of the Tortoise and the Hare in Aesop's Fables. We lucked out with that one, as we were able to actually attend a play of Tortoise Vs. Hare, performed by local school-children thanks to the
Missoula Children's Theatre
.
As for Math and Phonics, there are daily activities to re-enforce number names and counting, as well as letter names and sounds. There is plenty of emphasis on tactile exploration, such as making the shapes of letters with clay, or just using the textured foam letters that came with the kit. We make use of the number chart, focusing on one number each day, as well as shapes and colors and patterns of those in sequence. (See right.)
A major help to supplement this curriculum came from my very own bookshelves.
The Christian Liberty Nature Reader
(
book 1
) has short stories about various animals. It worked out that there were 3-4 stories to fit with each unit theme. It took me a little prep to page through the book and match them up on
my assignment charts
, but it was worth it. They fit so well, and add a thread of continuity. I highly recommend it as a complimentary purchase to MFW.
_______________________________________
Bible:
AWANA stands for Approved Workmen Are Not Ashamed, taken from 2 Timothy 2:15:
"Be diligent to present yourself approved to God, a worker who does not need to be ashamed, rightly dividing the word of truth."
The best part of the Awana format is that it teaches Biblical truths with Scripture memorization to back it up. I want my kids to know what they believe, and the Biblical basis for "WHY?" as well.

Wyatt finished his final year as a Cubbie, and is excited to become a Sparky next year.


Overall Wyatt really enjoyed his PreK/K year, and we will likely do some kindergarten and 1st grade books this year.
Blessings,
Laura

©2012-2013 Loving and Learning on the High Plains. All rights reserved. All text, photographs, artwork, and other content may not be reproduced or transmitted in any form without the written consent of the author. http://www.homeschoolhighplains.blogspot.com