I am reviewing this website with several of my *new* homeschool friends on
The Old Schoolhouse Review Crew
. To get the best picture of SchoolhouseTeachers.com, be sure to read all of their reviews!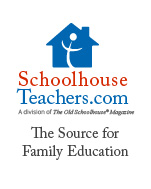 This week, I had the wonderful opportunity to try out
SchoolhouseTeachers.com,
provided by the trusted online magazine
The Old Schoolhouse Magazine.
I was super excited about it. I usually don't try out subscription websites because I'm worried about getting all signed up, not seeing what I was looking for, then having to go through the trouble of un-subscribing. I'm so thankful I didn't miss out on this site for that reason; there is so much I would have never seen!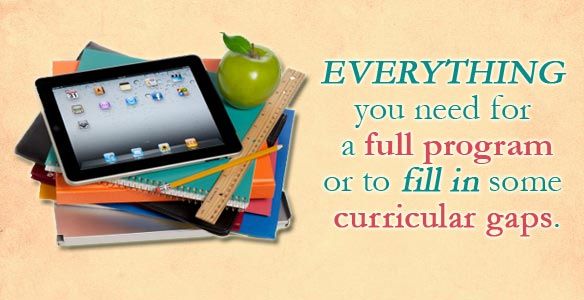 To be sure they meant EVERYTHING, I tried several different categories all week long with my kids... and was impressed that there was more there than I could ever use. To try out the site, I focused primarily on the elementary age material, since that's where my kids are right now.
We used the SchoolhouseTeachers.Com website to tailor our lessons this week, starting with reading. I grabbed their
December recommended family reading list
, and took it with me to my library. Unfortunately, none of the titles recommended on the reading list were at my library. I'm sure this is partly due to the fact that we have a small town library, and that a lot of the Christmas themed titles were "out". We did find lots of similar titles with the help of a sweet librarian, and the kids enjoyed that. I think I would still use the recommended reading lists, but maybe be more proactive and see about inter-library loans, or utilize my
paperbackswap
account to order books on the list.
I printed off a whole week of
Spelling
sheets for Tyler and Emma (5th and 4th grade). They used the spelling sheets all week, and really enjoyed them. They loved that they incorporated vocabulary in a fun way, and made working with each word fun. For example, they had to decode each spelling word in a game one day. They both really got into it, and they are not usually so positive when it comes to spelling.
I found a
G
eography Assignment
that centered around England, which was awesome since we were studying Charles Dickens
A Christmas Carol
this week. There were facts, questions, and even printable maps. Pretty much all the lessons on SchoolhouseTeachers.com were available in pdf format for easy printing.
I loved the
Math Worksheets from Classroom Professor
as well. There were video clips teaching the material, as well as printable worksheets and tests. They were really thorough and professionally done, and the answer sheets were included too. This part of the website, I was certain I would be using on a weekly basis, to supplement our math curriculum, and maybe even as a way to re-enforce difficult math concepts.
Since my kindergartner is learning to make letters, I downloaded the
Print Alphabet Practice Sheets
for him. While I was there I tried out the cursive ones too. I may never need another handwriting worksheet book. I'm beginning to see how the main tool anyone needs to make the most out of SchoolhouseTeachers.com is a good printer and reams of paper! I could spend all day printing out fun things to fill in the kids' lessons.
But printed material isn't all, I found some wonderful videos about
Science
for the kids to watch too. They were just the right length, and fun enough to keep the kids' attention. I love how science and fun experiments mix! Following the theme of hands on, I explored the
"Ditch the Desk"
feature. I wasn't sure if this would be something I'd use, but when I opened the first lesson and it talked about using Christmas time and giving as a way to do math, and the assignment was baking for the neighbors... I knew, these people know WHY I homeschool. I want my kids to learn, not just from a book, but in life, where the rubber meets the road, just like it will when the years of school are done. I want homeschooling to be a lifestyle for the rest of their lives. That was when I knew, SchoolhouseTeachers.com, gets what I'm doing here in my home. Probably because a lot of this is created by homeschool parents and teachers. People like me, thinking beyond the page.
My opinion about this product:
I love how this one source has all the categories and all the tools to fill out my coursework. During the review period I felt I only scratched the surface of finding everything that could be used for my family. Overall, I found this to be a very good value for an eclectic teacher like myself. Especially since just trying it out is SO very reasonable.
You can get access to the site for only $1 for the first month. If you like it, a subscription is only $5.95 per month after that, and only $64.95 for a year.
(There is actually a sale going on, only $49 if you act fast!)
Considering it would give you access to a complete curriculum for preschool through high-school, as well as college/career tips... I think that is a real bargain! Now to just find a good sale on paper and printer ink... ;)
Disclaimer: I received a free copy of this product through the Schoolhouse Review Crew in exchange for my honest review. I was not required to write a positive review nor was I compensated in any other way. All opinions I have expressed are my own or those of my family. I am disclosing this in accordance with the FTC Regulations.