Over the past several weeks I've had a fun time reviewing three products from
Simplified Pantry
:
Be sure to read this whole review, as I've got a great coupon code to share. :)
I encourage you to read all of the other reviews (see the banner link below) to get a better picture of the
Paperless Home Organization
. I have not had the opportunity to try it out yet, but I have been hearing great things from the rest of the crew. If you have a tablet or a smartphone, you can begin organizing your life without another scratch paper list to lose!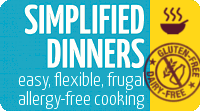 I loved the opportunity to get a free copy of the two cookbooks,
Simplified Pantry
and
Simplified Dinners: GF/DF
. While no one in my house is gluten free, my hubby is dairy intolerant. We try and limit or avoid the dairy. My hubby usually has to suffer through, because cooking without dairy is so foreign to me. You can then see that having a list of simple and basic dairy free recipes was a wonderful resource. Also my niece and nephew are gluten free, and we eat together as families regularly. I knew it would be wonderful to be able to plan meals that are "normal" but allergy friendly for the whole crowd. The gluten free and dairy free version of the Simplified Dinners was very similar to the regular version, but with more gluten free and dairy free options on the same menu items. Also some of the desserts were completely different, like the Coconut Milk Chocolate Mousse. YUM! Of course, the shopping list of GF/DF ingredients was a big help, as well as the tips about hidden allergens.
The premise of the book is that the meals are gluten free by their basic design rather than by specialty flours and attempts to replicate gluten-full meals. Keeping the menu simple, focusing on good proteins and lots of great veggies and fruits, made gluten free grocery shopping easy to stay on budget. The regular simplified dinners cookbook was very similar to the gluten free and dairy free version, as these were very easy and basic meals with lots of flavor variation.
I used the cookbooks for two weeks each. As you know, I like to meal plan, and to shop only once every two weeks. To really try these out, I took the basic pantry list from the front of the book, and shopped my way through it. We then knew we would have all the ingredients to make whatever was in the book. Having used it now, I can put better quantities on the ingredients on the shopping list. For example, I didn't buy soy sauce because I knew I still had some. I didn't realize that it was in SO many of the recipes! Aside from that, I really liked the shopping list for both books, and I had an easy time getting everything.
I then wrote out a basic list of the meals that interested me best, so I could have a bit of a meal plan to stick to, as I wanted to think ahead and defrost meat. Many of the meals were good slow-cooker recipes, so they required a little fore-thought. I also liked the variety offered. There were things on the list that I don't usually buy and cook, and my family loved the change up. Some of the recipes we loved were:
Slow Cooker Roasts
Stovetop Pasta
Foil-Packet Fish
Taquitos
The recipe sections of both books are done a bit differently. First is a set of basic instructions, and then several recipes for ingredient variable combinations, to be applied to the instructions. For example, there was a recipe for slow cooker chicken, with every step of the process given. Then there were about 7 different recipes for the marinade or glaze for the slow cooker chicken.
The author notes in the front of the book that: "The primary purpose of these recipes is not so much to provide
recipes
as to give reminders of the general method of certain standard family dinners. . . . Making dinner is play. Play with what you have on hand and play with your audience." I think she accomplishes this very well with
Simplified Dinners!
What I liked:
New menu options, even in allergy free cooking. I am always stumped for "what to make for dinner."
Easy recipes.
Shopping Lists, so you know you will have all the ingredients.
Yummy flavor combinations I'd never tried before.
Allergy free cooking was not as hard as I had imagined.
What I didn't like:
No quantities. While I like to make it up as I go when I'm cooking, I like measurements when I'm following a recipe. It was hard to know how much of each ingredient to buy, not knowing how many of the recipes use each ingredient.
The format of the recipes. See the samples.
No lunch or breakfast menu ideas, so you will need to plan that on your own and add it to the shopping list. (As you see in the photo above, we tried some GF waffles on our own!)
Bottom Line:
Overall we had a great time trying it out, and I know we will be revisiting these recipes and methods again. I would probably copy my favorite recipes off onto regular recipe cards in the "ingredients-then-instructions" format that I'm accustomed to, with quantities/measurements that I know will work for my family. To see the recipe format and the master pantry list, be sure to use the links above to download a free sample.
And for a special treat, the author, Mystie Winckler, is offering
a 30% discount on all of her e-books with the code: TOS2013
from now until June 3rd, 2013. Thank you Mystie!
While I did not get a chance to review Paperless Home Organization, many others of the Crew did, as well as both cookbooks. Be sure you read about it all
on the Crew Blog!

©2012-2013 Loving and Learning on the High Plains. All rights reserved. All text, photographs, artwork, and other content may not be reproduced or transmitted in any form without the written consent of the author. http://www.homeschoolhighplains.blogspot.com

*Prices and links are accurate at the time this is published, and are subject to change.